A bare mass of concrete in the middle of a vast field. A foreign body between knee-high blades of grass, entirely unexpected in the landscape.
At the Hombroich missile site, «House for Musicians», the work of the Austrian artist and theoretician Raimund Abraham, establishes an uncompromising position with respect to reality and world.
Ruslan Daskalov, Moritz Wegwerth and Matthias Wollgast have developed an exhibition concept that transforms this space, for a period of ten days, into a distinctive showcase of the emerging art and music scene, with the participation of artists from the Rhineland, Belgium, Austria and Great Britain. With this, they are first to throw open the doors of this building to the public.
The thirty four artists they have chosen to invite for this event, in order to show both their work individually on the one hand and to develop a series of space related works on the other, which will occupy the geometrically nested rooms of the building.
The climax of the exhibition will see a twenty four hour music and performance programme, staged together with Alexander Wissel (Single-Club Duesseldorf).
In the run-up to the event, sound recordings utilizing the natural resonance of this enormous 'sound-box'-like space will form part of the exhibition catalogue, in the form of a vinyl.
The title of the exhibition refers to an essay written by Abraham himself. The issue of the relationship between concept and reality as a realized structure, a central point in the approach taken by Abraham, takes on an entirely new meaning in the framework of this exhibition, where its 'in-between' state renders it somehow unreal and undefined. Committed to the ideology embraced and applied in the construction of this building, 'The reality of The Unbuilt' establishes its own Cosmos in this raw monolith.
Art Assistance: Jasmin Makk
Technical coordination: Jochen Groß, Max Pfeffer
Supported by
Kunststiftung NRW
Kunst und Kulturstiftung der Stadtsparkasse Düsseldorf
Stiftung Insel Hombroich
Verein zur Förderung des Kunst- und Kulturraumes Hombroich
Stadt Neuss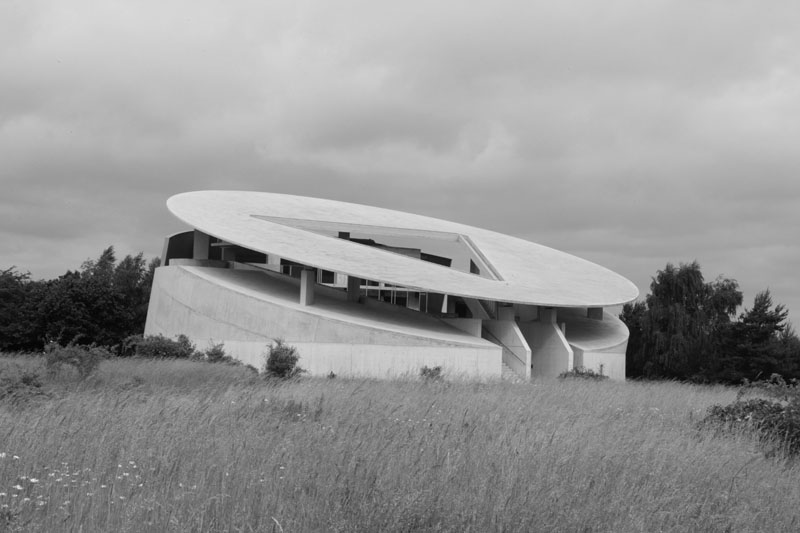 from ,RAIMUND ABRAHAM – [un]built', ed. by Brigitte Groihofer, Springer, Wien 1996